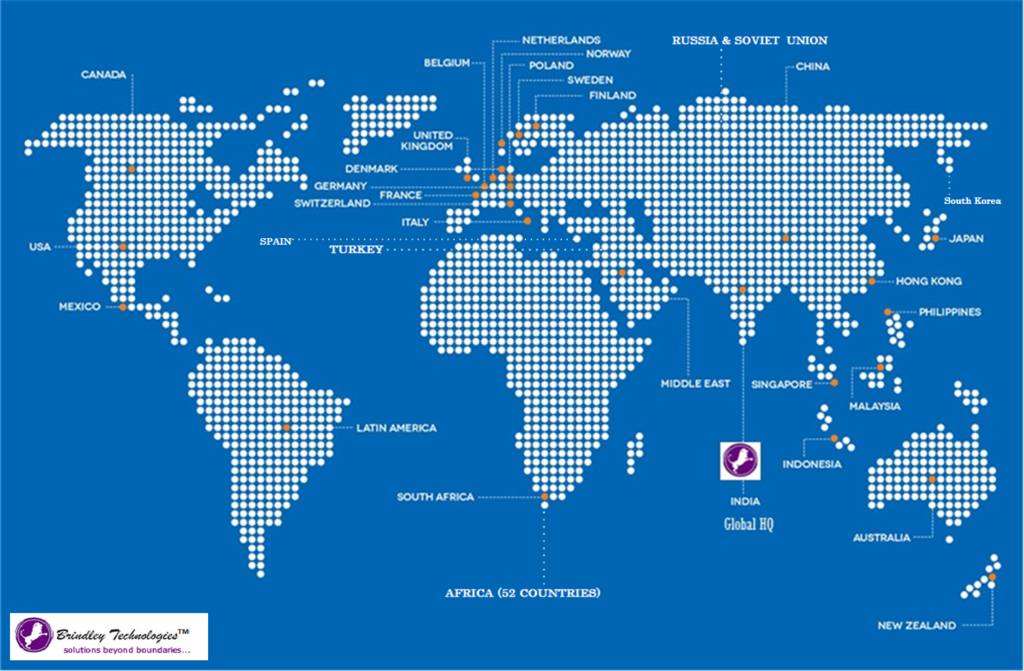 WORLD HEAD QUARTERS:
BRINDLEY TECHNOLOGIES LIMITED
Suite#12, Kadambari CHS, Sanatorium Lane, MV Road, Andheri East, MUMBAI, Maharashtra, INDIA
Pin Code: 400069.
Phone: +91 22 26820897 / +91 8080514471
Email: ASIA-PACIFIC
Coming soon – NEW
BRINDLEY GROUP OF COMPANIES NEW HEAD QUARTERS coming soon at:
1. The Financial District of INDIA – Bandra-Kurla Complex (BKC), Bandra East, MUMBAI, INDIA.
Technology, Research & Development:
2. Brindley Technologies Knowledge City, Talegaon, Pune, INDIA
Manufacturing, Technology & Embedded Technologies Solutions:
3. Brindley Technologies Knowledge City, Ranchi, Jharkhand, INDIA
4. Brindley Technologies Knowledge City, Jamshedpur, Jharkhand, INDIA
Asia-Pacific Corporate Offices

Asia- Pacific

Registered Office (INDIA):

BRINDLEY TECHNOLOGIES LIMITED
Suite#12, Kadambari CHS, Sanatorium Lane, MV Road, Andheri East, MUMBAI, Maharashtra, INDIA
Pin Code: 400069.

Phone: +91 22 26820897 / +91 8080514471
Email: ASIA-PACIFIC

Delivery Center (INDIA):

BRINDLEY TECHNOLOGIES LIMITED
Suite#6, Ashok-Smruti Building, Old Nagardas Road, Andheri East, MUMBAI, Maharashtra, INDIA
Pin Code: 400069.

Phone: +91 22 26820897 / +91 8080514471
Email: ASIA-PACIFIC

Manufacturing (KIOSK) – (CHINA):

BRINDLEY TECHNOLOGIES KVSIO Ltd
4F, Building 6-B,
DongFangJianFu YuSheng Industrial Park,
107 # Road, BaoAn District, Shenzhen City, China

Phone: +91 22 26820897 / +91 8080514471
Email: ASIA-PACIFIC

Sales Office (MALAYSIA):

BRINDLEY MEGAdvance TECHNOLOGIES SDN BHD
Penang, Malaysia

Phone: +91 22 26820897 / +6018 977 8644
Email: ASIA-PACIFIC

Global Investment Office (HK):

BRINDLEY INVESTMENT LIMITED
Unit 25A, 25/Floor,
Wing Hing Commercial Building,
139 Wing Lok Street,
Sheung Wan, Hong Kong

Phone: +91 22 26820897 / +91 8080514471
Email: ASIA-PACIFIC

EMEA

Europe, Middle East and GCC Corporate Offices

Sales Office (SPAIN):

Calle Valazquez, 27 Ppal, Centro Izq, 28001, Madrid, Espana (Spain)

Phone: +1 646 844 5811
Email: EUROPE

Sales Office (UK):

BRINDLEY TECHNOLOGIES PVT LTD
36 Brindley Close, Wembley Middlesex HA01B5, UK

Phone: +1 646 844 5811 / +91 8080514471
Email: EUROPE

Sales Office (UAE):

1560, API Residency, Next to Al Nahada, Al Nahada 1, Dubai, UAE

Phone: +1 646 844 5811
Email: MIDDLE EAST & GCC

AMERICAS

Americas Corporate Offices

Registered Office
(USA & CANADA):

BRINDLEY TECHNOLOGIES INC.
3500, South Dupont Highway, Dover, Delaware 19901, USA

Phone: +1 646 844 5811
Email: USA & CANADA

Sales & Delivery Center
(USA & CANADA):

BRINDLEY TECHNOLOGIES INC.
19 West, 34th Street, Suite#1018, New York NY – 10001, USA

Phone: +1 646 844 5811
Email: USA & CANADA

Central, LATIN & South Americas Corporate Offices

Sales & Delivery Center (MEXICO):

PRAXIS – BRINDLEY TECHNOLOGIES S.A.,
Insurgentes Sur No 105, Piso 11, Torre El Greco, Mexico D.F.

Phone: +1 646 844 5811
Email: MEXICO

Sales & Delivery Center (COLOMBIA):

Calle 120A#7-62 of 301, Bogota, Colombia

Phone: +1 646 844 5811
Email: COLOMBIA

Sales & Delivery Center (PERU):

Calle Dean Valdivia 148, Edificio Platinum Plaza 1, Piso 11, San Isidro, Lima, Peru.

Phone: +1 646 844 5811
Email: PERU

Sale & Delivery Office (CHILE):

Ahumada 270 Piso 7 of 725, CP 832015, Santiago, Chile

Phone: +1 646 844 5811
Email: CHILE

Sale & Delivery Office (ARGENTINA):

Corrientes 311, 7 ° PISO C1043AAD, Buenos Aires, Argentina.

Phone: +1 646 844 5811
Email: ARGENTINA

Sale & Delivery Office (BRAZIL):

Avenida Nazare 1, 139, Sala 102, lpiraga, Sao Paulo, Brazil

Phone: +1 646 844 5811
Email: BRAZIL

AFRICA

Sale & Delivery Office (UGANDA):

BRINDLEY TECHNOLOGIES LIMITED
Block 11, St. Anne Zone,
P.O.Box 15142,
Kampala, Uganda

Phone: +91 22 26820897 / +91 8080514471
Email: AFRICA