Overview
NFS SWITCH allows banks to use shared infrastructure for issuing Debit cards and KCC Cards, deploying ATMs, and participating in large payment networks like RuPay, VISA, Master Card and others.
It is not enough for a bank to deploy only core banking solutions( CBS); it is only the beginning. The real benefits of CBS come in when the bank gets connected to the national payments network. However, connecting to the National Financial Switch (NFS) involves a huge capital expenditure into an EFT Switch and associated environment, which requires additional work and expenditure to make it compatible with NFS.
Brindley Technologies Switching Services offers the most affordable and fastest method to participate in a larger financial ecosystem. Brindley Technologies offers you access to our EFT Switch on a shared-basis. Not only does your bank save on the huge capital expenditure for a world-class full-fledged EFT Switch, it will also get access to the nationwide ATM network of National Financial Switch (NFS). Bank can deploy onsite and offsite ATMs, POS terminals in your branches (our patented solution) that act as a fallback if the leased line fails.
Offerings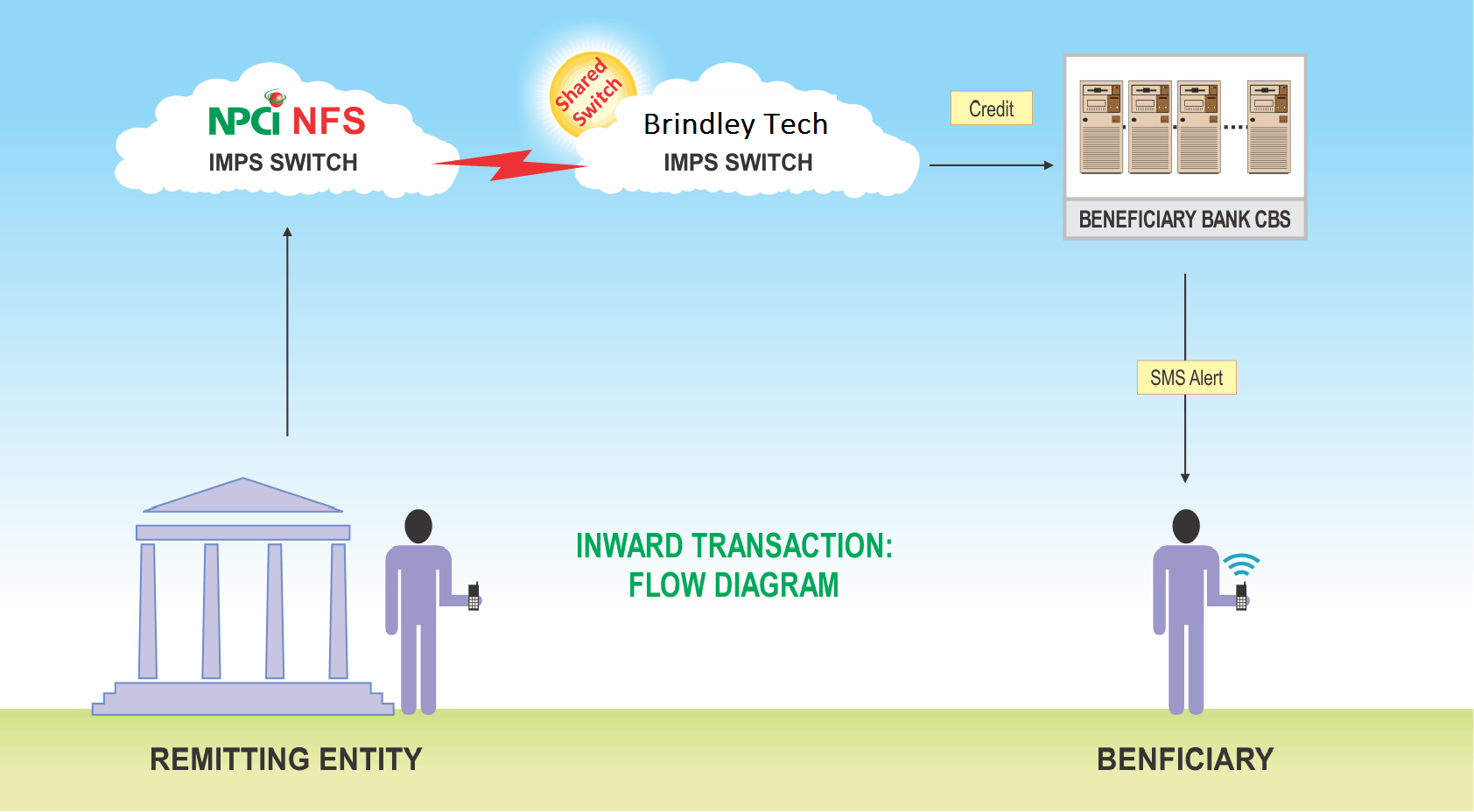 IMPS SWITCHIMPS SWITCHING
IMPS SWITCH
Brindley Technologies provides cost-effective technology based payment solutions and to serve an instant payment trend requirement has resulted in the creation of Brindley Technologies IMPS Switch and same is available for direct and sub member banks in a hosted environment.
-Additional channel to customer for performing banking transactions.
-Helps in increasing mobile banking customer-base due to less dependency on application and also promotes Financial Inclusion.
-Beneficiary Bank will receive Interchange Fee for every IMPS credit transaction from the Remitter Bank.
–Brindley Technologies IMPS Services features are
Tested Platform.The same technology is now available on ASP model for direct and sub-membership of the IMPS network of NPCI.
Available on a hosted ASP model in its data centers that are certified for information security and business continuity standards, thus allowing smaller banks to participate in the IMPS network as Beneficiaries.
IMPS ServicesIMPS Services
IMPS Services
IMPS (Immediate Payment Service ) is an instant, 24X7, interbank, electronic fund transfer service through mobile phones. IMPS facilitates use of mobile instrument as a channel for accessing bank accounts – thereby, enabling interbank fund transfers in a highly secured manner (with immediate confirmation). This facility is provided by NPCI (National Payments Corporation of India). Any Bank can use shared Brindley Technologies IMPS Switch to receive the remittance from other member banks that are live for IMPS.
CONNECTING TO IMPS CREDIT FACILITY
Any Bank can join for IMPS only as a "Beneficiary" under sub-membership model. The minimum requirements of sub-membership are:
-24 x 7 available CBS
-Connectivity to a shared IMPS Switch provided by Brindley Technologies (ASP)
-IMPS Switch infrastructure will be provided by Brindley Technologies (ASP) certified by NPCI.
BENEFITS TO BANKS
-Increased volume of transactions without physical banking
-IMPS will help in expanding mobile banking customer base (on account of lesser dependency on physical branch banking) and also in promoting Financial Inclusion
Industries