Overview

Applications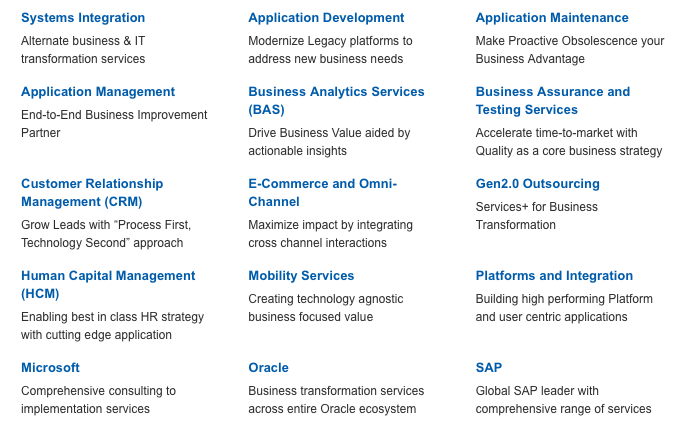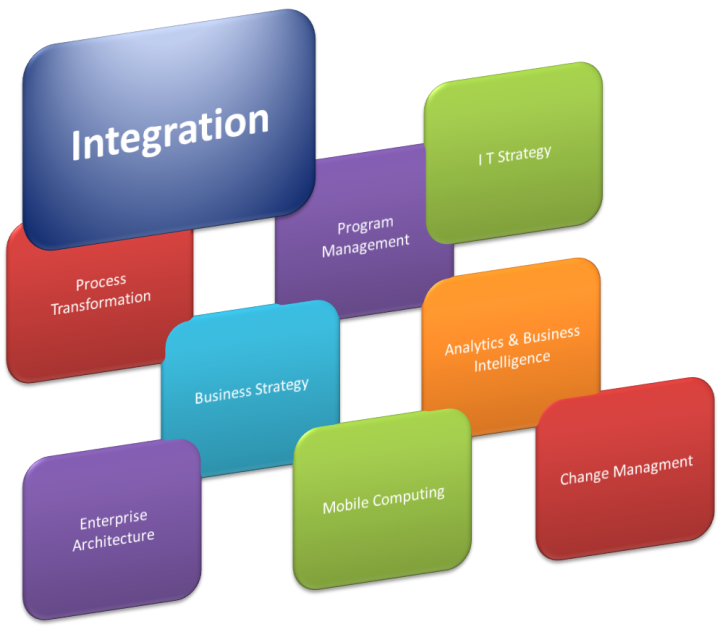 Offerings
Today global enterprises face unprecedented opportunities to leverage technology and transform how their organization works, grows and operates. Backed by specialist expertise across diverse service areas, Brindley Technologies offers a wide range of systems integration solutions, implementation and consulting services that enable organizations to thrive. We operate as a single global organization, leveraging proven industry and solution best practices from our offices and delivery centers around the world.
Comprehensive Services to Transform Your Enterprise
Brindley Technologies offers a full lifecycle of systems integration consulting services and proven delivery capabilities, tailored to each client and the needs of their industry and sector. Our Applications business is structured around 11 integrated horizontal capabilities, allowing us to offer clients a unified approach in developing the right solutions for their business needs. We combine our core expertise and capabilities in each of these areas with deep experience in industry verticals to provide powerful business solutions and systems integration capabilities which ensure that every one of our engagements adds transformational value to the organization.
Brindley Technologies Application Services Portfolio
-Business Analytics Services
-Business Assurance and Testing
-Customer Relationship Management
-Collaboration
-E-commerce and Omni-channel
-Next Generation Technologies – IoT, Mobility, Business Intelligence
-Human Capital Management
-Microsoft
-Mobility
-Microsoft
-Oracle
-Platforms and Integration
-SAP
-Mainframes
-Industry Experience that Meets Your Needs
Brindley Technologies business and technology consultants bring in-depth knowledge and expertise across a broad spectrum of industries, including Retail, Aviation, Public Services, Consumer Services, Manufacturing, Life Sciences & Healthcare, and Financial Services. With a network of offices in 51+ countries, our global team helps optimize leading technologies to drive real business value for our clients.
An Alternative Approach that Delivers Value
With Brindley Technologies, you get a fresh perspective and a unique capability from other IT service providers – we call this the 'Alternative'. Our delivery model integrates on-site business transformation consulting services with near and offshore technical development and support to make sure our clients receive the ideal systems integration solutions at the right price. Through the use of our offshore centers of excellence, we are able to accelerate implementation, while reducing the risks and costs associated with global deployment. Business and IT transformation is as a result of our unique capabilities to merge our onsite and offshore capabilities seamlessly
Our benefits-led approach allows us to recommend the best tools and solutions to meet your needs, and incorporates best practices learned through years of complex engagements in systems integration consulting. We help you realize the true benefits of your technology investments by aligning IT service offerings with business goals and strategies.
The Brindley Technologies Factor
Brindley Technologies brings in-depth knowledge and expertise across a broad spectrum of industries. The combination of our services portfolio and our lean industrialized delivery model sets Brindley Technologies apart and provides exceptional value for our customers.
-Integrated service offerings for end-to-end global applications lifecycle management
-Creative commercial models that allow for business-aligned and outcome-based contracts
-Deep enterprise application integration solutions capabilities and skills across key industry verticals
-Capabilities of providing knowledge management consulting services to leading global companies
-Business application consulting capabilities through deep domain experience and technology expertise
-Global labs and innovation centers dedicated to transforming ideas into real-world solutions
-World class partnerships across our core capabilities across the globe
IT ServicesIT Services
IT Services
Service Description
With ever unique requirements, ever rising competitiveness and technological advancements companies need to adopt diversified applications built on different platforms offered by various vendors. Multiple IT systems, applications and business processes not only create complexities but also lead to lower efficiency and reduced productivity.
Solutions
Brindley Technologies offers its clients system integration services which streamline applications and optimize enterprise wide resources. Our integration services include consulting, mature governance framework and system integration in the following areas:
Application and enterprise systems integration
Establishing enterprise messaging and middle ware footprint
Master data management strategy and implementation
Platform optimization and virtualization to promote better resource utilization
Establishing a strong and scalable security infrastructure integrated with application landscapes
Advantages
Brindley Technologies through its system integration services helps transform companies into efficient and agile businesses. The benefits that our clients get from our vendor neutral system integration services include:
Smooth and hassle free deployment and implementation of various applications and systems
Real time access to information leading to quicker decision making
Resource optimization across the organization ensuring better efficiency and increased productivity
Maximized returns for the technology investments (ROI) already made.
Custom Application DevelopmentCustom Application Development
Custom Application Development
One shoe does not fit all. One of the biggest problems with most of the software and applications available in the market is that these have been developed with general design parameters. To withstand changing technologies and unexpectedly fluctuating markets, companies need IT applications which are tailor-made to suit their specific requirements. Sometimes the business drivers rarely justify the investments made for an off-the-shelf application.
Solutions
Brindley Technologies develops applications which are customized to meet your unique business requirements, present and potential. We design your software application using a process methodology which follows industry standard software development framework matured with extensive successful engagements and leveraging best practices including ISO and CMMI.
Built on suitable scalable architecture using advanced technologies, the software applications we develop for you include web based applications, intranet applications, customized applications, new applications, code perfection, porting, multi-tier applications, client/server applications, system integration and database management.
Advantages
Application development forms the most crucial component of Brindley Technologies software application development life cycle approach for offering you application development and maintenance services. Technical expertise and years of experience has helped us offer our clients the following benefits:
Desired application flexibility to enable easy integration and enhance overall utility
Make their systems immune to changing technologies
Ensuring accelerated time-to-market by finishing projects in advance
Strengthening the IT applications by providing best-of-breed security compliance
SOA based architecture solutions which can easily integrated with other solutions.